Brisbane Markets - Fashion, Art & Craft, Produce & More
Brisbane has a variety of markets all over the place that specialise in the freshest of fresh produce, vintage fashions and hand made arts & crafts.
You can wake up early and buy breakfast and coffee, snack on fresh fruit, buy a loved one some flowers and some delicious jams and dips to take home.
Brisbane is located close to Moreton Bay and the Darling Downs so you'll find great seafood and organic meat and poultry. Pick up some of the latest fashions or delve into vintage stalls where you'll find something truly unique.
Brisbane's sunny climate ensures you have a lovely day out as you wander through the stalls. Choose from one of the markets below and make a day out of it.
Keep it green and remember a basket to carry your goodies.
Brisbane Valley Markets
The Valley Markets on Brunswick Street Mall in Fortitude Valley happen every Saturday and Sunday and specialise in hand made clothes, art, jewellery, crafts, homewares and vintage clothes and jewellery. The Valley is home to an eclectic mix of artists and designers, so many of the wares at these markets are one offs and innovative, guaranteeing a unique product.
Located in Chinatown in the mall next door you can get a quick (and often cheap) massage or have your fortune told by a clairvoyants or card readers.
A great point of difference at these markets is the cool live bands, often up and coming locals, who play their tunes for you while you shop. There's also a range of street performers lining the mall to keep you entertained.
Cafes and bars are dotted along each malls so you can stop off and grab a refreshing beer with your lunch or try one of the dumpling houses in Chinatown.
Times: Saturday 8am – 4pm, Sunday 8am – 5pm
When: Every Saturday and Sunday
Where: Brunswick Street Mall and Chinatown Mall, Fortitude Valley
Jan Power's Farmers Markets
The Jan Power's Farmer Markets hosted by The Powerhouse in New Farm were voted Number 22 in Australian Traveller Magazine's 100 Greatest Australian Gourmet Experiences. There's around 120 stalls showcasing unique, fresh seasonal produce.
You'll find amazing artisan breads and bottled goods, wild honey, local wines, game meats, fresh seafood straight from Moreton Bay, organic fruit and vegetables, grain fed happy meat and flowers. You'll also find more interesting products like olive trees, flavoured oils, handmade pasta and a wonderful array of dips and deli foods. It's a fantastic day out as your source fresh food for an upcoming dinner party or just the week ahead.
New Farm - Powerhouse Plaza
When: Every Saturday from 6am to 12 noon.
Mitchelton
When: The 1st Sunday of each Month from 6am to 12 noon.
Manly
When: 1st and 3rd Saturday every Month from 6am to 12 noon.
West End Markets - Davies Park Market
The West End Markets come round every Saturday and happen under the shade of the old fig trees in Davies Park. There's so many stalls selling fruit and vegetables, clothing and jewellery and delicious ready to eat food. The park is situated by the river so you can enjoy a cooling breeze while you wind your way through all the stalls. There's a host of food stalls where you can pick up poffertjes or Mini Dutch pancakes for breakfast, a German sausage for lunch, homemade lemonade or freshly brewed coffee.
There's lots of take home options too! If you want to pick up some ingredients for dinner you'll find some of the freshest fruit and vegetable from local farmers and growers. Your proteins are covered by a number of stalls selling organic meats, fresh seafood and gourmet sausages and deli treats.
The West End is a melting pot of cultures and there's lots of ethnic clothing and jewellery for sale as well as original clothing designs and vintage finds.
Times: 6 am - 2pm
When: Every Saturday
Where: Davies Park, Montague Road, West End
South Bank Lifestyle Markets
Every Friday night, Saturday and Sunday crowds flock to the South Bank Lifestyle Markets. There's around 80 stalls selling arts & crafts, homewares, fashions, homemade food, fresh produce and yummy treats. The Lifestyle Markets is Brisbane's only 3 day market and should not be missed. There's music and street performers to keep you entertained while you shop and food stalls to keep you energised.
On the first Sunday of every month the Little Stanley Street plays host to the Young Designer Markets where you can find interesting an array of local fashions, accessories, jewellery, homewares, furniture and art. It's a great launching pad for Brisbane's artists and won't fail to impress.
When: Every Friday 5pm - 10pm, Saturday 10 am - 5pm, Sunday 9am - 5pm
Where: Stanley Street Plaza, South Bank
---
Riverside at the Pier Markets
The Riverside Markets are located next to the heart of the city and have been a popular day out since they started 22 years ago. There's a great range of local and imported arts & crafts, cutting edge clothing, jewellery, toys and of course food stalls.Find a huge array of stalls offering ready made food, lollies, chocolates, jams and drinks. Enjoy a day in the sun at the banks of the Brisbane River and pick up a gift for yourself or another while you wander through all of the stalls.
Times: 7am - 3pm
When: Every Sunday
Where: City Botanic Gardens, Alice St & Albert Street, Brisbane City QLD
Marky Markets
The Marky Markets are some of the most interesting in Brisbane selling all things vintage and all things handmade. They occur every third Sunday at West End's Vinyl out the front of The Hi-Fi. There's a fantastic range of clothes, homewares, crafts, shoes, books, fabrics and so much more. While you pick up some bargains you can enjoy a bite to eat and a beer in hand.
Times: All day
When: Every third Sunday
Where: 125 Boundary Street, West End
James St Market
The James St Markets offer Brisbanites a whole new take on market shopping. Located in a permanent structure locals enjoy a unique food retail experience seven days a week in a comfortable and clean environment. There's fine fruit and vegetables, fresh fish, a nut market, flowers and a bakery. There's also a number of cafes and restaurants selling breakfast, lunch, coffee and snacks. Situated on site is a cooking school which offers private classes to help home cooks create restaurant quality meals. You'll never want to shop anywhere else once you've visited these markets.
When: Monday to Saturday 8am - 7pm, Sunday 8am - 6.30pm
Where: 22 James Street, Fortitude Valley
Eumundi Markets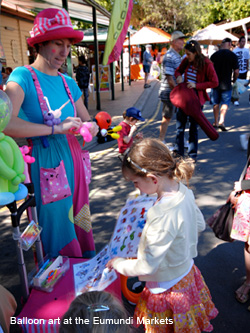 The Eumundi Markets are located one hour and a half's drive from Brisbane and are a great idea for a day trip for those wishing to have a unique experience.
The Eumundi Markets were established in 1979 in the small Noosa hinterland township of Eumundi. They grew from a few stalls selling local produce and crafts to around 600 stalls that you see today.
There's something for everyone from homemade toys, cutting edge clothing, original artworks and sculpture, homewares, accessories, furniture and so much more. The stalls must abide by the ethos of "we make it, bake it, grow it, sew it."
It's a foodies paradise as you buy or sample freshly baked breads, locally produces cheeses and yoghurts, handmade chocolate and cakes a huge range of local organic and hydroponic fruit and vegies. You can also stop at one of the ready made food stalls to snack on Thai food, paella, laksa and other delights. While walking your way through the stalls enjoy the street performers, musicians, palm readers and wellbeing practitioners.
When: Wednesdays 8am - 1.30pm, Saturdays 7am - 2pm
Where: 80 Memorial Dr, Eumundi QLD 4562
Suitcase Rummage
It's an old, simple idea. The first and third Sunday of every month sees Reddacliff Place host dozens of suitcases full of wonderment in a good old fashioned Suitcase Rummage. You'll discover retro clothing, unique artwork, bric-a-brac, clothes, books, jewellery, records, food and much, much more. The best part is the bargain prices and the ability to haggle or even swap for the things you like. Browse the cool items or register to sell your own suitcase full of goods the next time the markets come around.
Time: 12pm - 5pm
When: First and third Sunday of the month
Where: Reddacliffe Place, Brisbane City